Carry The Bag, Fly Your Flag
Introducing FlagBag Golf Co.
During the Spring of 2019, Golf Course Superintendent Josh Smith was trying to decide what to do with all of the "flown" pin flags sitting in the corner of his office. He hated the idea of them ending up in the landfill, and he knew many golfers loved and collected flags from their home or favorite course. At that moment the idea struck him - golf bags.
Josh reached out to long-time friend, Todd Rohrer, at Macdonald Leathergoods to discuss his "crazy" idea. With over 15 years designing some of the best bespoke golf bags in the World, Josh knew that there was no one better than Todd to help him bring his vision to life. The two of them worked together over a number of months designing a prototype. The fruits of their labor is the FlagBag - a golf bag built primarily from repurposed golf flags.
In order to take his idea from concept to reality, Josh enlisted the help of his brother, Matt, a respected businessman and fellow golf devotee. Matt and Josh launched FlagBag Golf Co. in early 2020 to bring Josh's original vision of creating one of a kind golf accessories from golf flags. Their first product is the FlagBag.
In partnership with Macdonald Leathergoods, FlagBag Golf Co. is proud to offer the FlagBag to golfers all across the World.
FlagBag Golf Co. is only just getting started with many more innovative, stylish bespoke golf accessories including valuables pouches, shoe bags, head covers, duffel bags, and more.
The best is definitely yet to come so please keep following our website for lots of exciting new products, designs, partnerships, and news!
"The game is meant for walking"
Frequently Asked Questions
What is the origin of FlagBag Golf Co.?
The original idea was the brainchild of Josh Smith - a Golf Course Superintendent and Artist.  A patent is pending on Josh's design
What is the price?
Suggested MSRP is $875 - $1,025.  Wholesale pricing is available for clubs/courses.  There are no minimum orders for clubs or courses.  
Do you sell direct to consumers?
Absolutely!  Whether you belong to a club, play muni golf, or just enjoy resort courses, we can make a FlagBag for you.  Just drop us a line or give us a call with your FlagBag vision, and we will work to make it become a reality.  We are also happy to contact your club or course to help explain or facilitate the process of making a FlagBag.  
How are Golf Shops compensated?
Our relationships with golf clubs and courses are the lifeblood of our business.  We GREATLY value these relationships, and we would not be in business today without them.  To make sure we fairly compensate these partners we offer the following two options:
1.  We sell bags direct to golf shops.  These shops then determine the retail pricing for their members/customers.
2.   Golf shops or members order bags directly from us, and we then remit to the club/course their agreed upon margin.   This approach allows golf shops to keep "virtual" inventory at no cost to them - especially helpful during these challenging economic times.
How do you source the flags?
We use a variety of sources:
1.  We obtain "flown" flags from clubs. We then repurpose these flags and give them a second life as a FlagBag or FlagBag Golf Co. accessory.  
2.  Clubs/courses provide new flags for us to purchase, or allow us to use our relationships with the top flag manufacturers to order the required flags directly.
3.  We order "FlagBag Original." flags without a course/club affiliation to be used in a FlagBag.  Some of these designs include numbered, vintage, state, checkerboard, and custom flags.
Who makes the bags?
Each FlagBag is individually designed and hand-crafted by our partners at Macdonald Leathergoods in their Portland, Oregon shop (Made in the USA).  Macdonald is owned and operated by Todd Rohrer and Thom Faglie.  Todd and Thom owned MacKenzie Golf Bags for most of the last two decades.  No one in the world has more experience or expertise in building bespoke golf bags than the team at Macdonald Leathergoods.  No one cares more, and NO ONE builds a better bag.   
How long does it take to make a FlagBag?
Our normal manufacturing time is approximately 6 weeks once we receive your flags and your design is agreed upon. 

Is the FlagBag an "all weather" bag?
We find that this bag works well in most seasons, however we don't recommend using it on rainy days given the substantial percentage of fine leather used in the bag's construction.

What are the FlagBag dimensions?
Each FlagBag has a 6.5 inch diameter top.  Its triangular shape accommodates a full set of clubs, though many golfers elect to lighten their load and carry fewer.  
We will soon be releasing a larger FlagBag with an 8 inch diameter top, patterned after the Macdonald Leathergoods "Classic" model.  
Most golf flags are constructed with 400 dernier premium nylon.  This is a durable and heavy-duty nylon - as you might expect given the extreme conditions golf flags are constantly flown in.  A FlagBag should perform in weather similar to existing light-weight nylon golf bags.  
Can I submit my own flags?
Absolutely!  We love to create unique FlagBags comprised of flags from our customer's golf life.  Allowing customer's to tell their favorite golf story in their FlagBag is something we love to do.  We call this model of FlagBag - "Mixed Bag".
Our only caveat with our "Mixed Bag" model is that we are very protective of club's/course's brands, flags, logos and intellectual property.  We will almost always reach out to clubs/courses for approval prior to incorporating their flags in a FlagBag.
Do you make any FlagBags from courses/clubs that you can sell to the general public?
Out of respect to their membership, most private clubs will not allow us to sell FlagBags built with their flags directly to the public.  This, however, is not true with all clubs - so it certainly doesn't hurt to ask.  We will soon be posting a list of our partner public, resort and daily fee courses, and we would be happy to design a FlagBag for you with these flags.  
Are other products available?
Yes, we currently offer FlagBag head covers made from golf flags.  We will also soon be offering FlagBag valuables pouches, shag bags, shaving kits, shoe bags, duffel bags, and many other cool products also constructed from golf flags.   
How do we order a bag?
Each bag is custom-made.  Customers consult with our team regarding their personal design.  Please contact us at info@flagbaggolfco.com to begin the ordering process for your FlagBag.  
How can we find you?
Check out our Instagram, Twitter and Facebook accounts at @flagbaggolf.  
Where can we direct any additional questions we may have?
Please do not hesitate to contact us at info@flagbaggolfco.com 
Types of FlagBags
The "Mixed Bag"
This model is constructed using flags provided from customers. This unique FlagBag lets customers tell their own "golf story" by submitting flags of their choosing.
The "Club"
Produced in partnership with the World's leading golf clubs and courses, the "Club" model allows customers to proudly "fly the official colors" of their favorite, childhood, memorable, fun or bucket list course/club.
The "FlagBag Originals"
Not everyone wants to fly the flag of a course or club. Some customers prefer to have a more "all-purpose" look. Customers can choose from flags in our inventory or that we have designed with leading flag manufacturers. These flags include numbers, checkerboard, vintage, state flags and logos. Custom flags can be designed as well by the customer.
"There are no shortcuts on the quest to perfection"
Placing an Order
As each FlagBag is individually made to suit the buyer's personal preferences, the buying process requires a personal consultation with our team.   
To order your FlagBag, please contact us at info@flagbaggolfco.com
FlagBag Gift Card
Sale price Price $875.00 Regular price Unit price / per
FlagBag Duffel Bag Gift Card
Sale price Price $270.00 Regular price Unit price / per
FlagBag Headcover Gift Card
Sale price Price $75.00 Regular price Unit price / per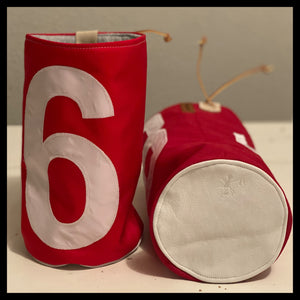 FlagBag Valuables Pouch Gift Card
Sale price Price $90.00 Regular price Unit price / per
FlagBag Swag is Now Available for Purchase!